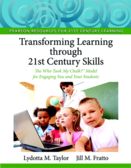 Transforming Learning through 21st Century Skills: The Who Took My Chalk?™ Model for Engaging You and Your Students, By Lydotta M. Taylor and Jill M. Fratto, Pearson, 2012
Offering workbook-style-pages and easy-to-read chapters, this book defines 21st century skills, discusses why we need to teach today's students differently, and shows how to apply 21st century concepts in an education setting. Following an eight-step model, readers learn about change management, the impact of school culture, and goal-setting for school improvement.

Look Inside the book and see Contents, Foreword by Bob Pearlman, and Preface. Order the book here.